Ziporyn Rises at Bread & Salt
The clarinetist delighted a full house gathered for the solo conce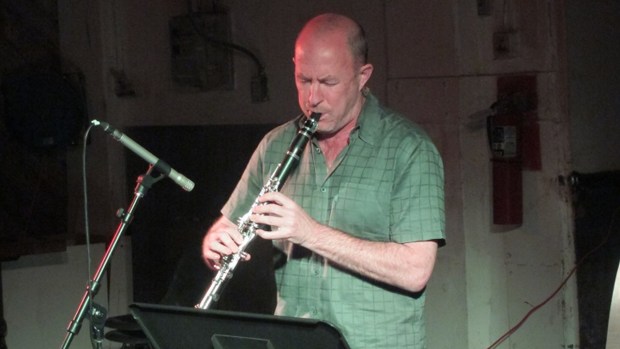 Bonnie Wright                                                      Evan Ziporyn performing in the transformed factory space.
New music champion Bonnie Wright concluded her Fresh Sound series on Nov. 1 with a bang, drawing in a large audience to experience the solo clarinet and electronics of Evan Ziporyn.
Ziporyn began with slow, pure tones, resonant stabs piercing the silence before branching out with more virtuosic language, showcasing a remarkable facility. He picked up the bass clarinet to open a suite of nine movements composed by Christine Southworth, the first of which featured dizzying, pre-recorded harmonies of what sounded like a Cambodian choir. Ziporyn's dark, elastic phrasing and rhythmic pad-popping cycled over many layers of marimba sounds, thumb-pianos, assorted percussion and the swirl of spoken voices. The suite was an unqualified creative success.
Turning 180 degrees to interpret some po-classics from the 1970s, beginning with "Ride, Captain Ride," from the Blues Image, Ziporyn continued with a ruminative reading of Joni Mitchell's "Woodstock" and, as an encore, the Shuggie Otis classic "Strawberry Letter #23."
Throughout the evening, Ziproyn impressed with his rich timbre and subtle virtuosity, maintaining listener interest even in the longer pieces, which could have bogged down in the hands of a lesser musician.
Source: http://www.nbcsandiego.com/blogs/sounddiego/Evan-Ziporyn-at-Bread–Salt-230566191.html#ixzz2jtmxWraa